I started the week by finishing up my motion for the Summer Associate Writing Competition. Then, I worked on responses to requests for production and interrogatories. I also watched a presentation by partner Suzanne Singer on Florida's new Tort Reform Law, which gave us an idea for an article to write together!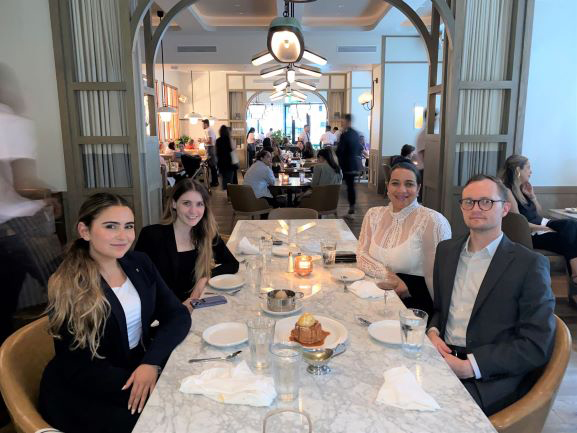 On Thursday, it was my turn to present cases at the weekly attorneys' luncheon. I was nervous at first, but I remembered the many times I had been cold-called in law school to do the same thing and felt more relaxed. Plus, my amazing mentor, partner Gigi Cordova, helped me prepare, and the presentation went smoothly.
After work on Thursday, we tried out a new restaurant, The Henry, near our office and had a delicious early dinner. Then, on Friday, we went to North Italia for lunch. We ate so many carbs that we started to feel sleepy, but their full espresso bar came to the rescue, and we finished the week strong!
On Saturday, we had our summer associate party at partner Suzanne Singer's beautiful home. There was a crepe station and a bar. What else could a party need? Everyone looked very nice and, despite the rainy Miami weather, we had such an amazing time. I couldn't believe that everyone had gathered to celebrate Tom and me, but this is just another example of how sweet it is to be a summer associate at RumbergerKirk!