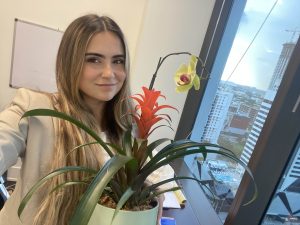 Week eight was the start of our mock trial practices. I get more excited for the mock trial with each practice! This week, we practiced our direct and cross-examinations and prepared our opening and closing statements. Our coaches have been extremely helpful and spend so much time helping us strategize and strengthen our arguments.
We also had a workshop on admitting evidence, led by associate Reggie Guillaume. Reggie taught us the specific language to use to admit evidence during a trial. It is more complicated than I thought! But by the end of the workshop, each of the summers had practiced admitting evidence and we all felt more comfortable with the process.
Aside from the summer associate program workshop and mock trial prep, I also conducted research for a few different cases and drafted an answer to a complaint. Having completed my eighth week at RumbergerKirk, I am now getting assignments for cases I have worked on previously or heard about around the office. Observing the progression of these cases is so fascinating and I am getting such valuable insight into the life of a case and how different strategies come into play.
On Thursday, I gave a presentation at the attorneys' luncheon on the Florida Supreme Court's new amendments to Professionalism in Florida. I talked about how the Supreme Court reduced the CLE hour requirement, and how they amended local professionalism panels. Also, just when I thought my office orchid had lost all of its flowers, a new one bloomed! Overall, it was a great week!