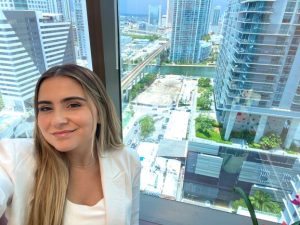 My first week at RumbergerKirk was a dream. It began with a quick flight to the Orlando office, where we were welcomed with a big breakfast spread and an opportunity to meet everyone who works in Orlando. We spent time chatting with them and the other summer associates before heading into a conference room to begin training. We were visited by different attorneys who gave very helpful presentations on the important parts of working in a law firm like billing, proofreading, and the filing systems. After a few presentations, we were taken to a delicious lunch, and then later treated to happy hour and dinner. With every new person I met, I felt more and more excited to be a part of the team.
On Wednesday, we continued training, ate lunch, and then all went our separate ways to travel to our home bases. I was so excited to start in the Miami office the next morning.
Thursday morning we arrived at the Miami office. I chatted with my amazing mentor, partner Gigi Cordova, and before I knew it, I was already watching my first deposition! At noon, all of the attorneys had lunch in the boardroom, and we watched associate Erin Weinstock brief two very interesting cases. In the afternoon, we went upstairs where they hosted a summer associate welcome happy hour, and I was incredibly touched that everyone gathered to meet Tom and me. We had an amazing time.
Friday was also great, as I finished my first research assignment and continued working on an answer to a complaint. I was terrified when a very important document I was working on suddenly closed and I was unable to find it, but with the help of the amazing IT team, I was able to recover my work! On Friday we went to lunch with our mentors and a few other partners from the firm at one of my favorite restaurants in Miami, which was a great opportunity to continue getting to know everyone.
Overall, I have not stopped smiling since I started here at Rumberger, and I cannot wait for the rest of the summer!