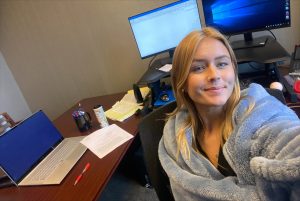 I cannot believe we are already halfway through the program. Only five more weeks and it will be over. One of the coolest things about working as a summer associate at RumbergerKirk is that you really get the opportunity to try everything. I have learned how to draft so many different documents including answers, motions, case evaluations, proposals for settlement, summaries and more.
Although this week was not as hectic as the last few, I was able to stay busy throughout each day. At the beginning of the week, I was assigned the task of drafting a Motion to Quash and an Affidavit in support. While some may find these small tasks, I found them interesting and exciting. Later in the week, associate Jamie Reitz invited me to watch her deposition, which actually ended up being cancelled because the witness never showed. Despite not actually observing the deposition, I did learn a lot from how Jamie handled the change in her schedule.
On Wednesday, associate Madison Miller and I went to a case management conference in federal court. It was both our first time sitting in federal court for an in-person hearing. Although it was the first in-person hearing for Madison, she did amazing and crushed it. On Thursday, I started my day with Madison as she prepared a witness for his upcoming deposition. Later in the day, all of the summer associates attended the direct and cross seminar in preparation of the workshop next week.
Wrapping up the week on Friday, I was given the task to draft a motion to dismiss, or in the alternative, a motion for a more definite statement. After cleaning up some areas and editing a few spots, it was sent off to the client. Afterwards, partners Rob Blank and Carie Hall invited me to lunch at Yeomans, which was amazing! Once we were back to the office, I hopped on a video conference for the motion workshop. Even though we all prepped a motion to exclude an expert as the defense, this time I was arguing on behalf of the Plaintiff. We were each given 15 minutes to argue our sides, and then at the end, we received feedback to help us do better next time. It definitely was a little weird arguing a motion over video conference, but good to practice since many hearings happen over Zoom these days.