Despite the week being shorter than usual, there was still so much work to do!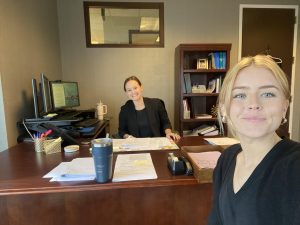 Monday, I made sure to get to the office early so I could get everything done before leaving for the Fourth of July holiday on Tuesday. Even though the office was quieter than normal, the assignments came flooding in. I was given a few different research assignments for the week and was able to draft another case evaluation for a client. As the day wrapped up, I headed home to start celebrating the Fourth of July! It was nice having a little time to relax and not think about work or school.
But soon enough it was Wednesday, and we were back in the office. I started my day finishing up some research for a memo on civil remedy notices, which was super difficult, but really interesting to learn about. I then began researching my second assignment of the day, which was on a completely different topic, video depositions. I learned about the standards for how much an expert can charge for their services and drafted a memo to consolidate all my findings.
On Thursday, we had our direct and cross-examination workshop with partners Scott Sarason and Suzanne Singer from the Miami office. We all presented our cases over video conference. Each of us had the chance to draft and present our direct and cross-examinations as well as play the witness. Our case involved a car that caused an accident after running a stop sign. While that might not sound super exciting, it was actually really interesting to piece together all of the details to make our arguments. To finish off the week, I spent my Friday researching for a memo on Boecher Discovery, a topic I had no knowledge of until this week.
As week six comes to a close, it amazes me how fast time is moving. I am so thankful to everyone who has been making this summer so great. Everyone's patience and kindness has really made the adjustment to such a fast-paced environment so much easier.