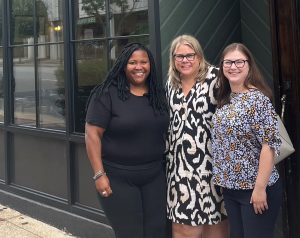 First, I have a hard time believing this is week six of my clerkship because time has flown by and I have experienced so much personal and professional growth this summer. This week included the Fourth of July holiday and we were all encouraged to leave work early Monday, July 3 to start the holiday.
I worked on an assignment for partner Scott Williams regarding a niche area of bankruptcy law that allowed me to hone my analytical thinking and writing skills. Preparing for the cross and direct-examination workshop helped me grow and develop my verbal presentation and improvisational skills and my ability to think on my feet.
Miami partners Scott Sarason and Suzanne Singer conducted the workshop. Each of the summer associates participated by playing three different roles during the workshop: the witness, conducting the cross-examination, and then direct examination. We all had fun and received feedback from Scott and Suzanne to help us develop as litigators moving forward. The Dean of Academic Success at Alabama Law emphasizes that feedback is a gift and I greatly appreciated the gifts Scott and Suzanne shared during the workshop.
My week ended on a high note. I was invited to a delightful lunch with partner Rebecca Beers and associate Julie Potts at Helen in downtown Birmingham. It was the perfect ending to a growth-filled week. The food was fantastic and the conversation unmatched.