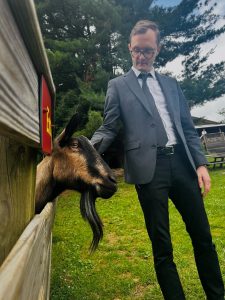 You know how nearly every job posting says that the applicant will have to work in a "fast-paced environment?" I think I finally understand what that means after this week with the firm. In addition to the usual workload, there were a number of events, seminars, workshops, and other opportunities that really stretched my time management skills. But, I wouldn't have it any other way!
This week, I had the opportunity to attend my first in-person deposition with partner Suzanne Singer and go to a meeting with a potential new client. Both of these opportunities provided learning experiences that I think I will carry with me throughout my entire career as an attorney. The in-person deposition showed me the importance of being cordial to your opposing counsel and knowing the rules for taking a deposition. The new client meeting showed me that being a good lawyer isn't just how well you work with the law, but also how well you present yourself to the potential clients seeking your services.
What I enjoyed most this week, however, was the Coffee with the Court event organized by associate Erin Weinstock and the Miami-Dade Bar Association Young Lawyers Section that was held at the RumbergerKirk office. At this event, Judge Rebull spoke to a group of attorneys and summer associates from various law firms. Throughout this conversation, Judge Rebull was warm, welcoming, and knowledgeable. He gave important insight into his preferences for how attorney's should file their documents with the court and provided a great primer on how to conduct ourselves during Zoom hearings.
During this conversation, the judge answered one of my questions regarding emerging areas of the law and how he handles cases dealing with complex technologies like AI and Cryptocurrency. While these technologies do present new issues to the court, Judge Rebull relishes the opportunity to become a subject matter expert in whatever may come across his desk. Honestly, after talking with him, being a judge seems like one of the best jobs in the world. Why be one of the players when you could be the referee?
The Summer Associate Program is also still in full swing. A couple of weeks ago, we had the opportunity to write and submit a Daubert motion as part of the program. This week, we had the opportunity to argue those Daubert motions in a mock hearing. This experience was great for a variety of reasons. First, having the opportunity to argue in an extremely low-to-no stakes environment is invaluable because there really are no consequences for not hitting a homerun; and second, it was important to see the continuity between a motion and the hearing on the motion. Overall, we had a busy, but fun week down here in the Miami office!
Sadly, not everything that happened this week was fun. I attended a funeral over the weekend and everyone at RumbergerKirk was extremely accommodating. I just wanted to take the time to thank everyone for their understanding and well wishes! The funeral did have goats at the venue—weird I know—but above is a picture of me and Zeke, the goat.