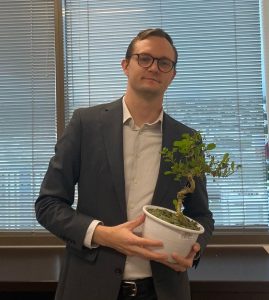 Week 7 kicked off with an amazing presentation from partner LaShawnda Jackson during the monthly Associate College luncheon. Every month, the associates from each office gather in their respective conference rooms to "go back to school" with presentations and lessons from various partners. This month, we learned about the rules of evidence, exhibits, and demonstrative aids. They tell me these are important topics for trial attorneys, but that's just hearsay!
Joking aside, the presentation was helpful and timely because we will be competing in RumbergerKirk's annual Summer Associate Mock Trial Competition later this month. The lessons we learned relating to entering exhibits into evidence, objections, and admissibility will all be useful during the mock trial. Additionally, this week, we also learned which side we will be representing in the mock trial (Plaintiff for me!), and that we will be "trying" our case in front of a real judge in the Ceremonial Courtroom at the Orange County Courthouse. The mock trial is definitely shaping up to be the highlight of my summer experience at RumbergerKirk!
Apart from the Associate College on Monday, Thursday was also a big day at the firm. We had our normal attorney's luncheon just like every Thursday, but it was my turn to do the weekly case briefings for the group. This process is usually a little nerve-wracking, but, this time in particular, things were turned up to 11. Not only was the presentation given to every partner and associate in Miami, but Frank Sheppard, Managing Partner, joined via Zoom and Karen Garcia, Director of HR, was also in attendance. Miraculously, I survived!
Thursday also featured a presentation by Paul Lipton, Director of Professionalism, Career and Skill Development, on soft power and how it can be used in the legal profession. Paul gave a fascinating talk about his use of soft power in the courtroom and how the tool has worked for him throughout his career. This was especially interesting because, as we discussed during the presentation, soft power is quickly becoming the favored norm over "hard power." Learning how to utilize soft power in our careers is a necessity as opposed to a luxury.
And, perhaps in a display of soft power, Paul also was gracious enough to supply Katherine and I with his newest book The House on Genesis Road. I am only about a quarter of the way through, but I can tell there will be many life lessons in his book—and some I can even apply to being a lawyer. Until next week!