"I like this place and could willingly waste my time in it" – William Shakespeare, As You Like It.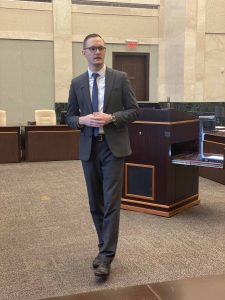 As the summer comes to an end, I find myself thinking back to a few of my favorite Shakespeare quotes. This one from As You Like It, sums up my experience at RumbergerKirk perfectly—albeit I don't think I am wasting my time, but the sentiment still fits! I have had an amazing time this summer learning how to litigate from all of the talented attorneys at the firm. And . . . nothing has been more amazing than competing in the mock trial earlier this week.
For the last few weeks, we all have been intensively preparing for the mock trial competition. We all gathered in Orlando on Sunday morning for our last practice—and the first practice that brought everyone from each side together. It really felt like we were working on a trial as all of the Plaintiff attorneys gathered in one conference room and hashed out our ideas. Renee (Tampa), Keyondra (Birmingham), and I worked together to iron out evidentiary issues, listen to each other's case in chief, decide on the best exhibits to use, and how to overcome any foreseeable objections.
Of course, even after the "final" practice, we all went back to the hotel to frantically tie up any loose ends. While there, the camaraderie that the mock trial inspires was on full display. We all worked together to make sure we could print any last minute documents, had any supplies we needed, and, of course, we also ate together. By the end of the trip, everyone who stayed at the Grand Bohemian hotel was added to a group chat where we exchanged memes and words of encouragement! It really was a great time getting to actually work with everyone in person—I think it all helped us bond just a little better. I distinctly remember at least one moment where we all realized how much we are going to miss working with one another.
Then, we all had to switch gears and actually compete against each other. The trial itself was an awesome, if daunting, experience. I went against Nick from from the Orlando office, and I felt like we both did a great job—and the judges seemed to agree! We also were in the same courtroom that hosted the Casey Anthony trial and we even got to see her holding cell. As a fan of true crime, this might actually have been my favorite part of the entire trip.
The night ended with happy hour in downtown Orlando and dinner at the Pinery in Lake Ivanhoe. Even though we were all exhausted at that point, it was time to celebrate. And celebrate we did!
I will never forget my summer associate experience at RumbergerKirk, and if I could go back in time to change anything—I wouldn't.